Output has hit another one out of the park with Thermal, an intuitive and inspiring multiband distortion plugin.
Distortion is arguably one of the most important elements in the computer musician's arsenal. It can add precious warmth to sterile sounds as well as get aggressive when necessary. Thermal, from LA-based developers Output, ticks all the boxes on what a good distortion plugin should do plus it adds some categories of its own.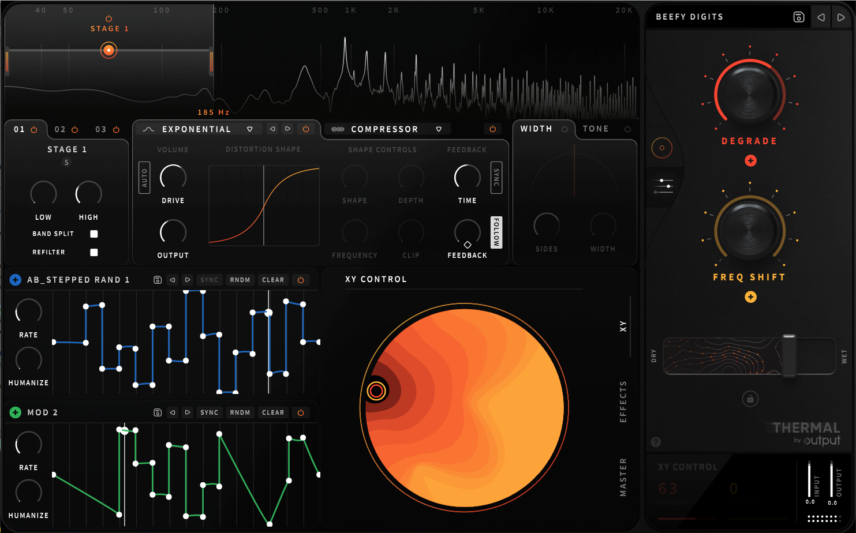 A multiband affair, Thermal splits your signal into three adjustable frequency bands. Each band can then be coloured with one of a selection of distortion types. Thermal next adds an effects block with bit crush, delay, flange, and others into each path. There are two lanes of modulation to liven things up, stereo width, broad tone-shaping control, plus an output stage with even more effects and a compressor. While similar in idea to FabFilter's Saturn 2, Thermal is centred on a macro XY control, which makes adjusting all these various parameters a snap.
[advert]
While there's a lot going on (and more than we have space to mention here) it never feels like it. The GUI is incredibly intuitive, not to mention gorgeous. When a plugin is this well-made, it makes you wonder why more aren't.
Of course, none of this would matter if it didn't sound good. Oh, does it ever. Here are some examples with a beat from our Roland TR-8S FM synthesis tutorial.
The original beat:
Boosted with clipping and compression:
With plenty of modulation:
And positively lo-fi:
Thermal can be as simple or as complex as you need it to be. It's almost a misnomer to call it a distortion plugin. It's more of a multi-effects suite with distortion at its core. The applications are practically endless. Well done, Output.
[rating buy="Output Thermal" price="£136″ link="https://output.com/products/thermal" value="4″ versatility="4.5″ sound="4.5″ ease_of_use="4.5″ overall="4.5″ text="Thermal goes way beyond what your typical distortion plugin is capable of."]
*Attack Magazine is supported by its audience. When you purchase through links on our site, we may earn an affiliate commission. Learn more.
Read the full story