Following the release of his 'Space Diver' album, we chatted with producer, DJ and Fckng Serious label boss Boris Brejcha about passion, motivation and just what 'high-tech minimal' is.
Where do you place the current music of Boris Brejcha? What genre is he making now? His tunes appear in the techno section of your online music retailer but also the tech house, minimal/deep tech, melodic techno and progressive sections too. He calls it high-tech-minimal; if you try to describe it you end up creating a string of genres, a long compound-noun like minimal-techno-influenced-electroish-trance perhaps, or trance-flavoured-melodic-techno-with-progressive elements maybe.
Back in 2006 when he dropped his first release, things were a little more straight forward. Then, he was putting out crisp, itchy minimal techno work-outs like his debut 'Blumenbeet' from 2006 or 2007's 'Ich Zeig Es Euch'. Lean, effective dance floor tracks wrought from the pops, ticks and micro-details of the minimal techno sonic palette.
Space Diver
Over the last few years, Brejcha has developed his sound and his DJ career has taken an upwards trajectory. He now spends the summer season jetting between Ushuaïa, Hï Ibiza and the festival circuit of Sonus, Dreambeach and assorted Tomorrowlands.
He recently put out his twelve-track 'Space Diver' album on Ultra Music. It's a collection of dance floor tracks that sit in the musical niche Brejcha has carved out for himself, falling somewhere in between progressive, trance, tech house and techno. It's a considerable development on the music from his last album, the bass-heavy, melody light '22'. '22's tracks were mostly stripped-down techno and tech house based around the ebb and flow of growling basslines and a few scattered skeletal leads. In contrast, 'Space Diver' delivers an accomplished set of clean, efficient beats, grinding techno basses and melodic trance leads. There are none of the tiny tics, crinkles and rattles of minimal techno and his synth riffs now sound less anxious; they've grown in size and confidence.
High-Tech Minimal
The overall Boris Brejcha sound is now bigger, more effusive, with simple chord progressions and big melodic leads. From the distinctly trance-flavoured 'Gravity' featuring Laura Korinth, to the chiming synth leads of 'Happinezz' featuring Ginger, it's a more accessible sound compared to his earlier work. His releases are pristine festival weapons, the development in his sound perhaps reflecting his career trajectory as well as the changing tastes of his audience.
When DJing, Brejcha famously only plays his own productions, putting on a Boris Brejcha show rather than presenting a traditional DJ selection. Inventing your own genre and only playing your own music when you DJ is a daring approach if nothing else, but it's one that is clearly working for Brejcha. We began our interview trying to pin down just what 'high-tech-minimal' actually means.
Attack: So tell us about high-tech-minimal then…
BB: "Well, I created my own genre 'high-tech-minimal' because it's my personal style of music, so I considered it better for it to have its own name. I'm tired of music being put in boxes. I wanted the people to open 'a new box' for me. To put it simply: it's 'Boris Brejcha Music' – it's MY music. I wanted people to associate my songs with ME and not with a genre. Because it's neither trance nor techno. It has my own specific touch and I wanted it to be recognisable as that. That's basically the idea behind it."
So how would you describe the music you're currently making?
First of all, I always produce music as I feel, that's why my music always sounds different. But it's always the same too! I often use the same or similar sounds again and of course, I have a few favourite synths which I use over and over. I guess that's why many people can quickly recognise my songs. But generally, my music is a mix of everything. It can be rough basslines with hard kicks but I also have a lot of melodies and trance elements in it. It can be soft vocals and deep techno stuff mixed together. There is no specific style/genre/box where I fit in, in my opinion.
How much of your personality do you put into your music? And how do you get personality and emotion into your music?
I think that's pretty simple. Music should be a passion. If you really bring a lot of passion into your production process, your music automatically becomes emotional. I produce the music depending on my feelings and also process sad experiences with it. These personal feelings should be reflected in the music. Melodies are also very important in my opinion. They can transport the listener much more than simple techno tracks that are just kicks and bass.
So obviously music is an important part of your life…
Music has become an indispensable part of my life. Everyone who knows my story, knows that music used to be my medicine and my refuge. This is why music has become so incredibly important to me. It is not only my hobby and my job, but also my greatest passion and I spend 90% of my day with it. Music is the best way for me to process my feelings and I think it will stay that way forever.
So what motivates you to create music?
I truly believe that you do not need motivation for something that is your passion. If you enjoy something so much that you would like to do it all day long, then it is the right thing for you. You'll always have motivation – because it's fun. And that is what drives me every day. My passion is my profession- and that makes me so happy!
[advert]
Moving to your career generally, you've been in the business a few years but had a fairly rapid rise to the upper levels of DJing and producing. Who has been the most important person in your career success?
In the first place, you're always responsible for what you do and it has a lot to do with your talent. But I have to say in all fairness that my best friend and former partner Ann Clue played the most important role in my career. When we first met, I really had nothing but a dream. She took over my booking, management and everything else. She helped me a lot on my way. For this I am still very grateful to her today.
So what were the key moments in your early career then?
My first gig was at the [Brazilian] 'Universo Paralello' festival in 2007. That was definitely the starting point of my career. Before that, I didn't know that you could be a DJ! South America is still my biggest fanbase, so I will always have a strong connection to that continent. Later in my career, the online sets for Cercle (Château Fontainebleau 2016 & Grand Palais 2018) were definitely key moments. These sets and Tomorrowland 2018 have received so much attention online, really amazing. Also. But in general, every gig is a success. Every time you can inspire people who didn't know you and your music before, it moves you forward.
And is there anything you would have done differently in your career?
No, not really. I'm very glad the way things turned out. I'm especially happy that I have had a permanent team and good friends by my side for a long time, who always stand by me – we are like a small family.
If you could go back to speak to yourself at the start of your career, what would you say?
As we all know from movies with time travel, it is always bad to change the past because then the future changes too. I wouldn't tell myself anything because I would want everything to be the same again.
And do you think that success has changed you?
To be honest, I think it changes everybody a little bit. Not necessarily the personality but at the least, your standards change: when you're used to a different standard of living, it can be hard to adjust. But I don't feel this is negative, it just happens. Personally and character-wise I have definitely remained the same and I believe that my friends appreciate that. I often seem aloof because I am shy around strangers, but that's always been the case.
So can you describe what kind of a person you are?
Well, I am very disciplined and diligent. I love science-fiction movies, good food and I spend most of my time in my studio.
Would you say you're a producer who DJs, or a DJ who produces?
I would say, I am a producer who DJs. I love being on tour and playing great parties but producing is my greatest passion and that's what I love most. To be honest, I don't like being the centre of attention all the time. That's something I really needed to learn during my career. I am still very nervous before big gigs today!
Tell us about making the Space Diver album. How do you go about actually making a piece of music?
Usually, I start making music on Tuesdays because Monday is my office day. I always use the first day to collect some ideas and play around. When the first idea is set up, I do the arranging on Wednesdays & Thursdays. Friday is mostly reserved for some fine-tuning and the mastering. If I am still not satisfied, I usually delete the track – if I work too long on a song I usually ruin it. I prefer to use the time to make room for new ideas. Afterwards, when I've collected enough new songs and a release is coming up, I look at which tracks would go well together in which order and release them.
Did you have a clear idea in mind what you were trying to achieve with the album? Did it turn out how you wanted it to?
Not really! I've been waiting a long time for this album to come out. I played these unreleased songs as a set for over a year and people have been waiting to finally get them. I always play my latest unreleased productions at gigs so people already know the tracks from my shows when they're released.
How do you feel about the album now that it's been released?
I'm really happy that all the songs I had in the pipeline and that people had to wait so long for are finally out. Now I have the opportunity to release all my newly produced tracks relatively quickly and have room for new ones – so my audience will know the material before the gigs.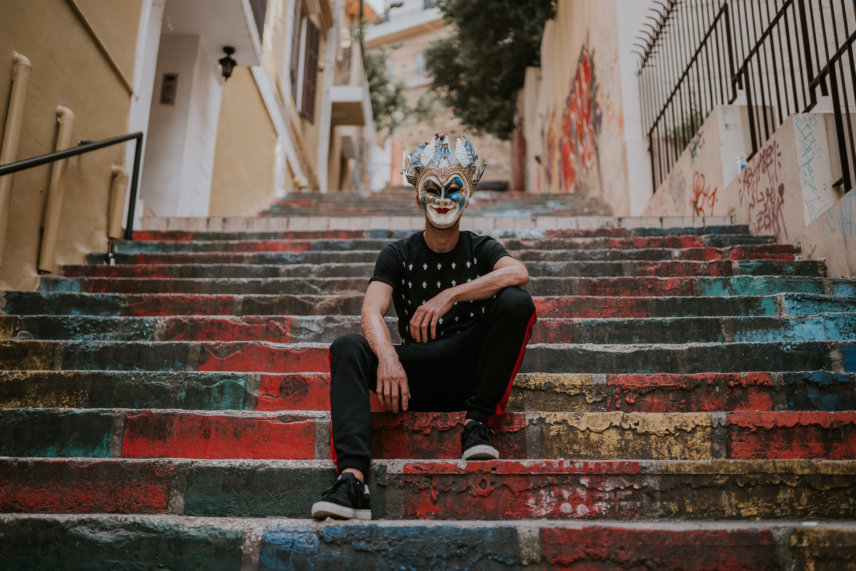 And then of course, you get to play your productions at some of the biggest events in the world. What does it feel like to be on stage at Tomorrowland playing your own tunes?
Of course, I was very excited before I played my debut on the mainstage. I have to admit, I never thought I would stand there one day. You only know it from the videos and it's very different when you're there. But it was breathtaking, unique. Tomorrowland is kind [advert-inline] of a status symbol and you get a sense of pride when the request comes in. I once almost fell off the stage throwing flags into the crowd, but I think that's part of it…! But the best moment was when we walked back through the backstage corridor and there were hundreds of fans stood downstairs who applauded me. An incredible feeling.
Do you have a favourite piece of music that you've created? Why?
It's definitely my track 'Purple Noise' from 2014, it will always be a perennial favourite. The track is just like good sex – hard and soft at the same time – what everybody wants!
Is there anything else that you'd like to tell us?
Do what you really enjoy. Find your passion and do not disguise yourself for people who are not worth it. Always be yourselves and enjoy life with your loved ones. I'm happy when you can come to my parties, listen to my music and we can have fun together. But until then: Stay safe & stay home.
Stream the 'Space Diver' album on Spotify.
Fckng Serious record label.
Read the full story