The new MPK mini has a slick new look and a slew of new features aimed at solidifying its reputation as the MIDI Swiss Army knife.
Akai Professional claims that the MPK mini is 'the world's best-selling USB MIDI keyboard controller'. It's now been updated to mark three models. It follows the recent launch of their free DAW, MPC Beats.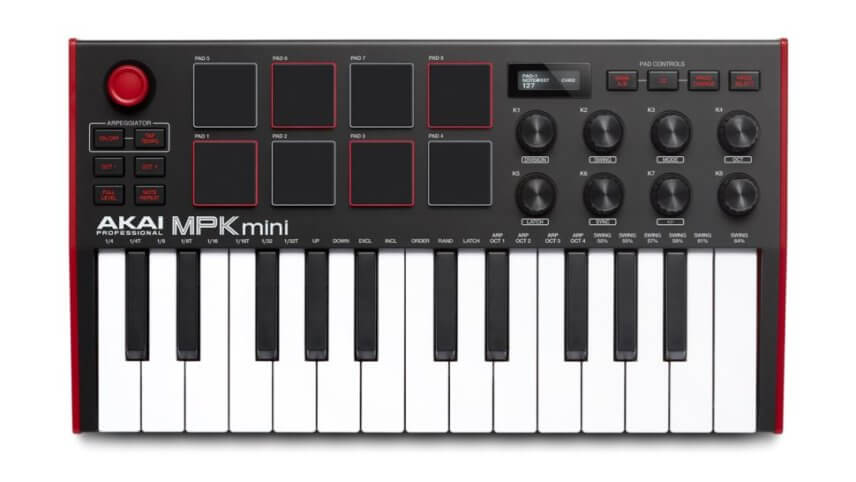 The MPK, frequently described as a musical Swiss Army Knife, retains its tried and tested 25-key, eight-knob and eight-pad design with the mk3. The controllers will also feature the now-familiar four-way joystick for pitch and modulation control, as well as the usual note repeat and arpeggiator buttons.
The three major differences compared to the mk2 are a redesigned keybed that Akai promises will provide better expression and response as well as a new OLED display where users will be able to see parameter feedback and CC values. The eight rotary knobs now feature 'endless' mapping possibilities unlike the mk2, which was limited to 16.
[advert]
It is worth noting that the MPK mini mk3 promises universal compatibility— meaning the user can plug in and play without having to install a driver. The mk3 also contains modes for multiple DAWs that automatically map it to various parameters when selected.
Available in standard, black, and white colour schemes, the MPK mini mk3 is priced at £90. Find out more at Akai Professional.
Read the full story