With studio rents on the rise, this forward-thinking trucker has taken matters into his own "truck".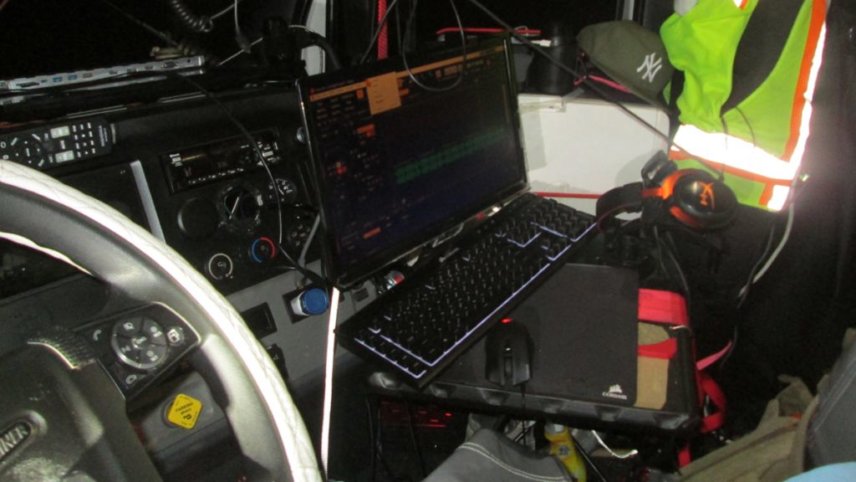 Making music while travelling is always inspiring. Going back and forth between your DAW and the view from the train window or hotel balcony is great. But a man in Washington State has taken this a bit further by setting up a mini-studio in the cab of his big-wheeler…and producing while driving!
The driver/producer was pulled over for speeding by a state patrol officer, whose colleague later tweeted the story with multiple pictures. Sadly, it's unclear what DAW the driver/producer appears to be working with but we are going to get in touch and feature him in our My Studio section soon.
Just when you thought you have heard it all…..Trooper Trombley stopped a semi truck driver for speeding (17 over). After arresting the driver for suspicion of DUI/drugs, he found out that the suspect produces/records music while driving down the highway. #notacceptable pic.twitter.com/QdAdj1ZS4G

— Trooper C. Thorson (@wspd3pio) February 10, 2020
It was confirmed that the driver was making music while driving down the highway, which could be considered a slightly riskier feat than scrolling through radio channels or talking on the phone, we have to admit.
The second picture in the tweet shows a bag of white powder and what looks to be drug paraphernalia, giving way for suspicion that the driver was most likely road-testing his tracks for their party-potential and doing some mastering "on the go."
Trooper Trombley used the hashtag #notacceptable in his tweet. It's is a relief that no one was hurt, but credit to this mobile producer's commitment to making sure his bangers sound exactly right.
We've reached out to Trooper Trombley for comment.
Read the full story