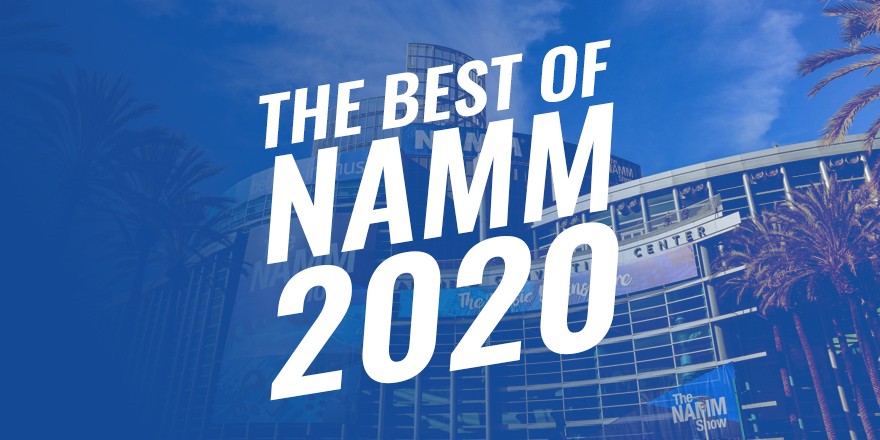 Best Of Winter NAMM Show 2020 brings you some of the most exciting, innovative and promising new music production gear and software from NAMM (Jan 16, 2020 – Jan 19, 2020). NAMM show is the world's most important and largest trade show for guitar, bass, effects, recording, DJ and synthesizer equipment. In this article, we covered just a few top tools focused on innovation in music production and sound design that have attracted our attention.
Let's start with…
AKAI MPC ONE
One of the absolute NAMM highlights is definitely the new Akai MPC ONE groovebox. The central element is the 7-inch multi-touch interface, under which the 16 velocity-sensitive RGB pads are placed. 2 GB of RAM are installed internally, plus 4 GB of onboard memory. The MPC One contains the typical synth engines Electric, Tubesynth and Bassline and a collection of AIR FX for Mixing & Mastering.
The MPC One will also be delivered with 2 GB of new drum sample and loop collections that have been put together especially for this model. Splice is on board via WiFi and if you want, you can also use the console as a controller for the MPC2 desktop software on PC and Mac. The full version is included free of charge. Deliveries will start in February. EU prices here at Thomann.de are 749 euros.
NEKTAR AURA BEAT COMPOSER
The Aura Beat Composer is a USB / MIDI pad controller with 16 RGB-illuminated pads and an integrated step sequencer. The Nektarine 2.0 software hosts up to 16 different instrument plugins at the same time, so that each pad can control a different virtual sound generator if required. The selection of plug-in presets should also be possible directly on the Aura hardware. Aura offers a plug-in mode that enables direct access to plug-in parameters via the eight rotary controls on the controller. Seamless DAW integration is a specialty of Nektar and Aura also offers a DAW mode.
The software contains protocols for controlling the DAWs Ableton Live, Bitwig, Cubase, Digital Performer, GarageBand, Logic, Nuendo, Reaper, Reason, Studio One and Sonar / Cakewalk. According to the manufacturer, the Aura Beat Composer is due to go into stores in the spring of 2020.
The recommended retail price is 349.99 euros.
ARTURIA KEYSTEP PRO
The Arturia KeyStep Pro is a new MIDI controller with a polyphonic sequencer. The newest member of the Arturia family, presented at NAMM, comes with clever features and a familiar, tidy surface! At a first look it looks like a combination of Arturia Keystep keyboard controller and Beatstep Pro. KeyStep Pro is a 37-key MIDI controller and a multi-channel polyphonic sequencer in one new hardware controller.
The KeyStep Pro is due to arrive spring 2020, priced at $399/€399.
UNIVERSAL AUDIO 'LUNA' FREE DAW
Universal Audio announced the LUNA Recording System, a fairly free DAW designed to work solely with UA's existing Apollo and Arrow DSP-enhanced Thunderbolt audio interfaces, with the exception of the older Apollo FireWire and Apollo Twin USB. LUNA will initially only be available for Mac users.
"LUNA transforms Apollo interfaces into the most inspiring and fully ‑ integrated Mac-based recording systems on the planet."
It is currently unknown whether and how Universal Audio would also like to make the system available under Windows. LUNA is initially delivered with the three instruments Moog Minimoog, Ravel Grand Piano and Shape (universal multi-instrument with various sounds).
The post Best Of Winter NAMM Show 2020 (Editor's Choice) appeared first on ProducerSpot.